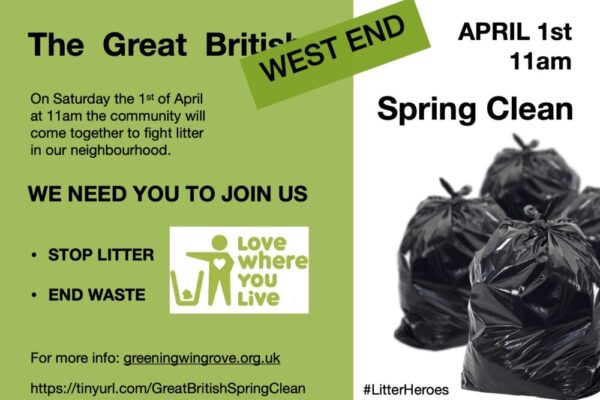 Hello, we are your neighbours. Many of us have lived here for a long time and we LOVE living here! It's a vibrant community with people from many different cultures. There is so much to learn here and so much to love. One of the things I especially love is walking down the street and smelling the wonderful cooking smells coming from houses at meal times.
However, we do have some challenges here, one of them being the amount of rubbish on our streets. The problem seems to be getting worse and it's now attracting rats! So what can we do? Well we think we all have to acknowledge that many of us feel the same way about this problem. It's no good thinking others will solve the problem for us and it really is down to us to change things.
We'd like to invite you all to join us to make this a cleaner, greener, and safer place to live. We believe that there are more of us care than those that don't. Let's all revel in our collective strength and show that we love where we live!
On Saturday the 1st of April at 11am were inviting you, our community, to come together to fight litter in our neighbourhood. We hope that you, your family, the people that you work with, will all pledge to join us to remove at least 1 bag of rubbish from your street. Come to the Bike Garden at 10am to get some bin bags, gloves and litter pickers or look out for us on the street and do your bit to help by cleaning your area. The weather report says its going to be miserable and rainy that day but this won't stop us. We hope it won't stop you either!
Please take care when litter picking.
ALWAYS WEAR HEAVY DUTY PROTECTIVE GLOVES
COVER ANY CUTS HOWEVER MINOR WITH SURGICAL TAPE / WATERPROOF PLASTER
KEEP HANDS AWAY FROM MOUTH AND EYES WHEN LITTER PICKING
WASH HANDS AND FOREARMS BEFORE EATING, DRINKING, SMOKING OR GOING TO THE TOILET
DO NOT PICK UP DANGEROUS, POISONOUS OR HAZARDOUS ITEMS.

This event is part of the Great British Spring Clean organised by Keep Britain Tidy Campaign. The Great British Spring Clean and Great Big School Clean 2023. This is the 8th year of the campaign.
You or your group, or your school can make the litter pledge here.
https://www.keepbritaintidy.org/get-involved/support-our-campaigns/great-british-spring-clean/