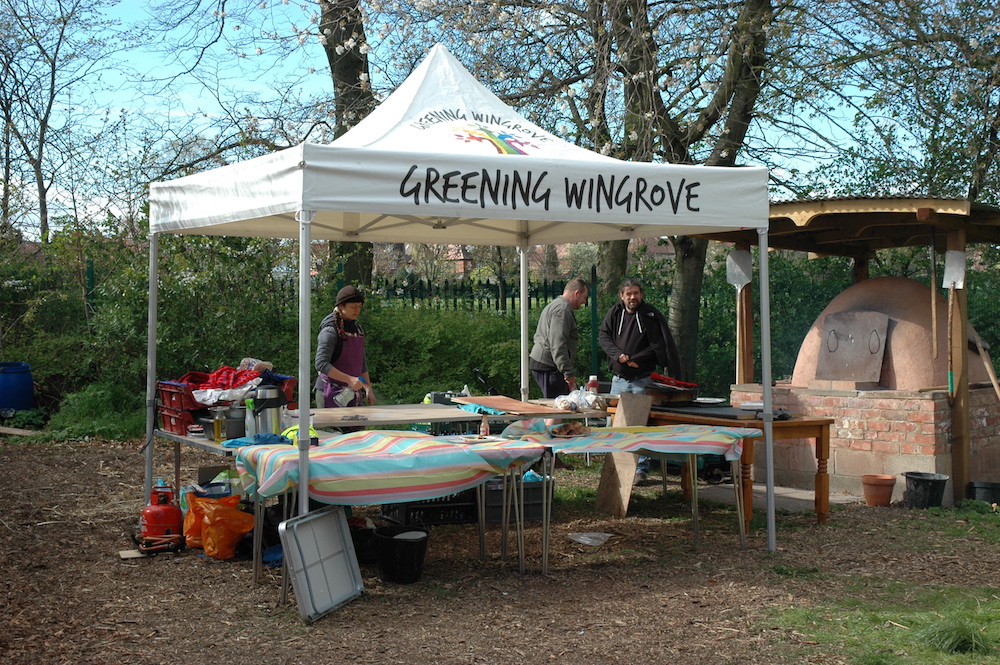 HOW IT ALL STARTED

Greening Wingrove was formed in Newcastle's inner West End by a group of residents and local organisations in the autumn of 2011. 
For much of the previous year, some of the group had been trying, unsuccessfully, to spark interest in cleaning up some appalling litter and fly tipping problems.  They found that many residents in Wingrove and Arthur's Hill saw the problem as too big to tackle.
In desperation, an internet search was conducted for ideas tried elsewhere to improve blighted back lanes.  This revealed that in Vancouver, Canada, a residents' project called 'Country Lanes' had prevented frequent back lane flooding, attributed to more intense rainfall due to climate change, by changing the physical environment of their grim lanes.  More absorbent, and natural, surfacing had been installed, giving the rain better drainage.  To everyone's surprise, the lanes soon became sociable places where children played and neighbours held community barbeques!
The 'Country Lanes' story was then discussed at a small meeting held one evening at the Nunsmoor Centre attended by residents, workers from local voluntary and City Council agencies, and the Wingrove Ward Councillors.  As a result, it was decided to look for solutions to apparently difficult local problems through a 'green lens'.  Ideas and energy suddenly starting flowing freely.  Everything from greening and growing to energy-saving and recycling rainwater were mentioned, and 'Greening Wingrove' was born that night!
The Councillors committed Ward Committee's grant funding to kick start Greening Wingrove, and two very large community meetings took place to identify improvements to allotments, agree a free home insulation scheme, and work to revive neglected street planters.  This was followed up early in 2012 by a participatory budgeting event, giving support to a lot of 'greening' proposals.  Both Business in the Community and The Co-operative pitched in with volunteers to help with the bigger schemes, such as painting community centres, and tree planting in Nuns Moor Park.   
The Co-operative, and the local West End Housing Co-op in Arthur's Hill, worked together to get door-to-door Greening Wingrove newsletters under way so that everyone could be part of our adventure.
At the same time, the BIG Lottery announced their Communities Living Sustainably programme to test how neighbourhoods could deal with the impacts of climate change.  The Workers' Educational Association, who offered adult education courses in our area, agreed to submit a bid to the Lottery on our behalf with support from the City Council, Newcastle University, the Time Exchange, BECON and The Co-operative.  And with free help from Co-operatives UK and the North East co-operative development agency, SES, we converted the informal Greening Wingrove group into a co-op with a Community Interest Company legal status.
And then we won the Lottery!