What's on at the Bike Garden
To see what's on this week, click HERE
Weekly and Bi-weekly Events
These weekly sessions at the Bike Garden are open to the community to attend (exception SHE Choir for women only). The opening times may vary according to the weather. You are welcome to join in with sessions or simply sit back and enjoy this lovely place. To find out about other events visit: The Greening Wingrove Bike Garden
SHE Choir – Wednesdays 6:30-8pm
 A community choir for women, anyone who identifies as a woman or identifies as gender fluid/gender queer.  All ages welcome (including little uns) and no previous singing/choir experience required.
Aspiring to grow collaboratively, with members as involved in running the various aspects of running the choir – musically, administratively, socially! – as they wish. If you just want to come along and sing, that is wonderful too! Connected to and inspired by a beautiful network of SHE cooperative choirs for singing women across the UK and beyond. Suggested donation of £1-£2 per person. Remember to bring a torch and/or you can meet at the park entrance just before 6.30pm to walk to the pavilion building in a group. Request to join the SHE Choir Facebook Group, click HERE 
Gentle Led Bike Ride – Every other Thursday 9:45am-12pm  
A group ride to encourage
adults to cycle more and build confidence.  Led by a trained ride leader, the rides last approx. 1.5 hours, going at a gentle pace mainly around the park and Town Moor with a café stop.  Perfect if you have not been on a bike in a while or just to enjoy some friendly company.  
Opportunity for more confident riders to be trained as Ride Leaders so that the group can become self-led and continue without being reliant on grant funding. If you are interested in this ride or rides for children, please get in touch with Kerryanne: kahiggens@yahoo.co.uk
Free Seasonal Events – Connecting to Nature, Food and Community
Wassailing in January/February
Wassailing is an ancient ritual bringing the community together to sing to the health of the trees and scare away the naughty spirits to welcome in the spring so the trees bear fruit in the coming seasons. 
We have craft and singing workshops to make paper lanterns and a wassail crown all in preparation for the crowning of the Wassail King or Queen and a lantern lit, singing procession to visit the Community Orchard in Nuns Moor Park.
Pollinator Day in May/June
This event creates a buzz in the garden to celebrate the valuable ecosystem services provided by the bees, birds, butterflies, bats and beetles. Without them we wouldn't have apples, strawberries, melons, almonds and even chocolate! Come join in craft activities, hula hooping, face-painting and learn about honey bees from the bee keepers association's virtual hive! Free pollinator friendly flowers are also given away to promote more pollination throughout our streets. 
 CIC Picnic in July
This event is to celebrate the work of Greening Wingrove CIC board and members who
generously give their time to make our area cleaner and greener by taking part in litter picks, street planting or Friends of Nuns Moor Park activities. Fun activities in 2016 included a bubbleologist, face painting, Mad Hatters magic potions and mud pie making, raffle and food stalls from Samosa Sisters and Edible Cycles, not to mention lounging on the lawn with picnics and tasteful tunes being played in the afternoon sun. 
 Apple Day in October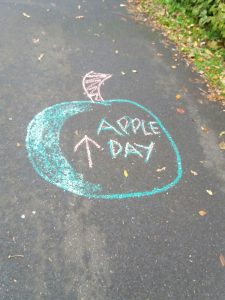 Inviting the local community to celebrate our very own heritage Community Orchard planted in Nuns Moor Park and welcoming into the Autumn season. There are a variety of family-friendly activities and games all around the theme of apples that all take place in the park and Bike Garden. Kilos of apples get turned into fresh apple juice using a machine to cut them up and an apple presser to squeeze them into tasty apple juice to be sampled in the delight of harvest!  Autumnal preparations also include making bug hotels for the garden's beasties to over-winter to maintain natural balances for the seasons to come. 
For more updates, visit our Facebook page: The Greening Wingrove Bike Garden