Recent Covid-19 Laws
As Covid-19 infection across the region spiked in the last week, so too did the number of new restrictions on how we can socialise.
Here is our guide to some of the new rules that have been recently introduced in our area, with more yet to come.
Meeting in houses you don't normally live in
No more popping round to a neighbours' house for a cup of tea. Whilst there are a number of exceptions, the general rule is you can't meet others at anyone else's house. This includes yards, gardens and doorsteps. You can make deliveries, but you mustn't linger.
Meeting outside the home and the rule of six
You can meet with up to five other people, in a 'socially distanced' way at locations outside someone's home, such as parks, play areas, back lanes, streets, car parks, pubs, restaurants or dessert diners. First-time penalties for breaching the 'rule of six' were doubled last week to £200. Organised indoor sporting, activity or exercise must be done in groups of no more than six.
Further restrictions are expected to come into force on 30 September, barring people not in the same household or support bubble from meeting at indoor locations such as cafes, bars, restaurants and pubs.
Relaxation of rules for childcare and vulnerable adults
Those normally involved in providing 'necessary' care for children under 14 or for vulnerable adults were allowed to do so again from last week. This might be childcare provided to allow a parent to go to work or to allow them to attend to other responsibilities.
Caring arrangements must have already been established before 21 September to qualify for this exemption. The rules do not allow for people to have children staying with others, for parties or 'play dates'. People are able to care for children or vulnerable adults from one household only.
Self isolation
Those who don't self-isolate when either a) they have had a Covid-19 test that shows positive or b) when they have been ordered to by NHS Test and Trace, now face a minimum £1,000 fine for a first offence.
If someone receives a positive test result, they are now required by law to self-isolate for "the period ending 10 days after displaying symptoms or after the date of the test if they did not have symptoms."
Other members of their household must self-isolate "for the period ending 14 days after symptom onset", or after the date of the initial person's positive test, says Government guidance.
If someone is instructed to self-isolate by NHS Test and Trace, because they have had close contact with someone outside their household who has tested positive, they are legally required to self-isolate for the period notified by NHS Test and Trace.
Both household and non-household contacts must self-isolate for the full period, regardless of whether they have symptoms and, if they develop symptoms and take a test, regardless of whether any test taken gives a negative result.
Get latest Government guidance on how the Test and Trace system works. See latest Government advice for households with possible or confirmed Covid-19 infection. The Government has also published specific advice for households with grandparents, parents and children living together where someone is at increased risk or has possible or confirmed Covid-19 infection.
Employers who force or allow staff to come to work when they should be self-isolating will be liable for fines of up to £10,000.
Test and trace self isolation payments
A taxable £500 Test and Trace self isolation payment will be available to some workers on low incomes who suffer financial loss because they are unable to work at home and who have been ordered to self-isolate by NHS Test and Trace. Claimants will need to be receiving one of the following benefits to be eligible – Universal Credit, Working Tax Credit, income-based Employment and Support Allowance, income-based Jobseeker's Allowance, Income Support, Housing Benefit and/or Pension Credit.
It will be paid on top of any statutory sick pay entitlement. The payment is expected to be available from 12 October and awards will backdated to 28 September where people are eligible. The scheme will be run by Newcastle City Council and is set to end 31 January next year.
Face masks
With some exceptions on health and age grounds, face coverings must now be worn by all passengers in taxis and private hire vehicles (in line with rules for all other public transport). They must be worn by staff and customers in hospitality venues including restaurants, cafes and pubs. They can be taken off to eat and drink while seated at a table, but must be put back on when finished or if walking round the venue. Staff must also wear them in shops, post offices, banks, public areas of hotels or hostels and other indoor areas. From 28 September, at any premises where masks are required to be worn, a sign must be displayed saying so.
A £200 minimum instant fine can be imposed for breaching the new face mask laws.
Businesses
Fines of up to £10,000 and shutdown of premises can now be imposed on businesses failing to maintain Covid-secure conditions.
Venues in hospitality, the tourism and leisure industry, close contact services (beauticians, hairdressers, tattooists, nail care, massage etc) and local authority facilities must also have systems in place to record who is entering their premises and must by law display an official NHS QR code so visitors can log their attendance that way instead. Hospitality venues must refuse entry to unregistered people.
£1,000 instant fines can be imposed on the person with overall responsibility for the business for failing to comply with these data collection requirements.
Hospitality venues
Hospitality venues like bars and restaurants must serve food and drink at tables, of no more than six people. They must not allow consumption of food and drink on the premises after 10pm. They will be allowed to deliver food and drink off premises after that time. Customers must not 'mingle' with people outside their own household or group they are part of. Staff must wear face coverings.
Hospitality venues must refuse entry to people who are not recorded entering their premises, either through the venue's own recording system or through the NHS QR code mobile check-in system. All hospitality venues must display their premises' NHS QR code in a prominent location.
In a set of measures introduced on 28 September, probably aimed at karaoke sessions, hospitality businesses must also take 'reasonable measures' to prevent people singing in groups of more than six. They must take reasonable measures to stop dancing (unless there is an exception, such as the first dance at a wedding reception) and (unless it is a live performance) must limit music sound levels to a Government-set maximum.
Takeaways
Takeaways can operate almost as usual, with the exception that they cannot allow orders to be made or collected in person after 10pm. Off licences are also allowed to continue operating after 10pm.
Weddings and civil partnerships
A bride and groom can have no more than 13 'socially distanced' guests (including witnesses) at their wedding from 28 September. The previous limit was 28. Anyone working is not included in the guest limit. Performers can sing and play music, but guests cannot. Weddings are banned at people's homes and gardens. Venues must be 'Covid-secure'. If the wedding is held in a place of worship, face masks must be worn and police have powers to impose £200 instant fines for breaches. The couple getting married or joined together and those officiating do not have to wear face masks.
Wedding receptions
Receptions must be held at a Covid-secure venue, and there are big penalties for venue hosts who breach rules. Receptions cannot be at somebody's home or garden. The total number attending can be no more than 15, plus anyone working. Celebrations must be finished by 10pm and participants must abide by social distancing rules. Indoor children's play areas should be closed. Apart from a traditional newly-joined couple's 'first dance', no other dancing is allowed. No hanging around at a bar counter. Meals and drinks must be sit-down. Police have powers to break up illegal gatherings and to issue instant fines.
Christenings and baptisms
Apart from baby, just five others are allowed at a christening or baptism, plus officiants and others working at the ceremony. Arrangements for the ceremony can be made at parents' homes providing social distancing is observed. Face masks must be worn by parents and guests. Came into force 28 September.
Car sharing
It is still permissible to car share, but Government advice is to "try not to share a vehicle with those outside your household or support bubble". Where it is necessary to share, the guidance is for all to wear face masks, share the transport with the same people each time, face away from each other, open windows for ventilation and to clean vehicle between journeys.
Covid-19 in Newcastle
Figures released by Newcastle City Council show infection rates in the city have soared over the past week, with a current rate of 235 cases per 100,000 population. This compares with 131 in the wider North East and an average of 52 across England.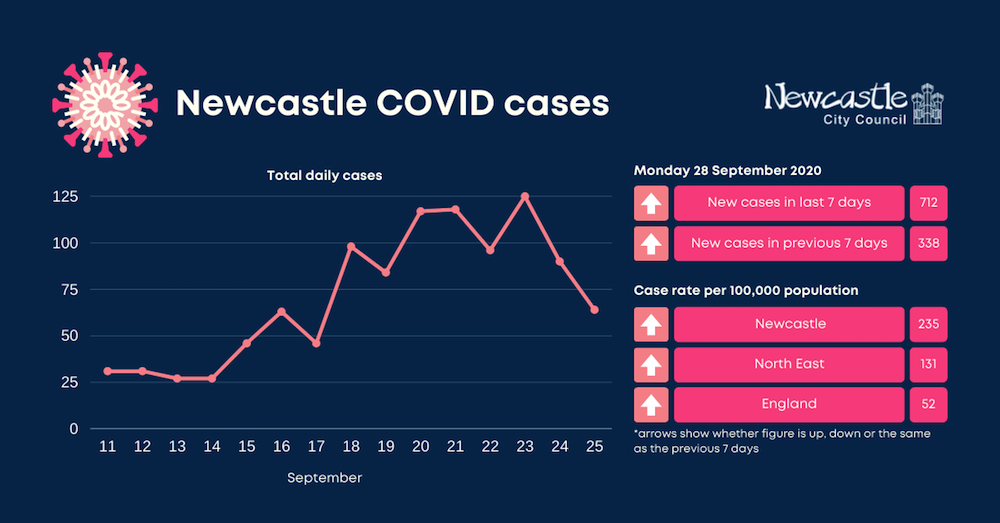 Wingrove councillor and City Council Cabinet member for Public Health and Neighbourhoods Irim Ali said "It is vital now that everyone follows the guidance and especially the local restrictions that have been in place for a week now. I know this is difficult, and many of our communities have already sacrificed so much, but if we do not unify as one city we face the very real risk of the virus taking over."
Government Health Secretary Matt Hancock told Parliament last week that "people should not socialise outside their household … that is the approach that people should take."
New restrictions coming
Further new law is expected to be in force in our area by Wednesday 30 September, placing additional restrictions on meeting indoors.
Although not yet published, restrictions are expected to include a ban on meeting people outside of your household or support bubble, in indoor settings such as hospitality venues like pubs, restaurants, cafes and bars.
The proposed North East clampdown, being brought in "at the request of local councils" will introduce "legal restrictions on indoor mixing between households in any setting", said Matt Hancock, in an announcement to Parliament. The provisions, he said, will be a response to high and rising levels of infection in the region, with six of seven North East council areas having infection rates of more than 100 of 100,000 people.
Newcastle City Council leader Nick Forbes confirmed there had been discussion with Government on further restrictions, but said he had no advance notice of this week's announcement, which he criticised for "being communicated in headlines and without detail".
Your feedback
We try to ensure information on these pages is 100% accurate. Please let us know if you think any of our information is not quite right.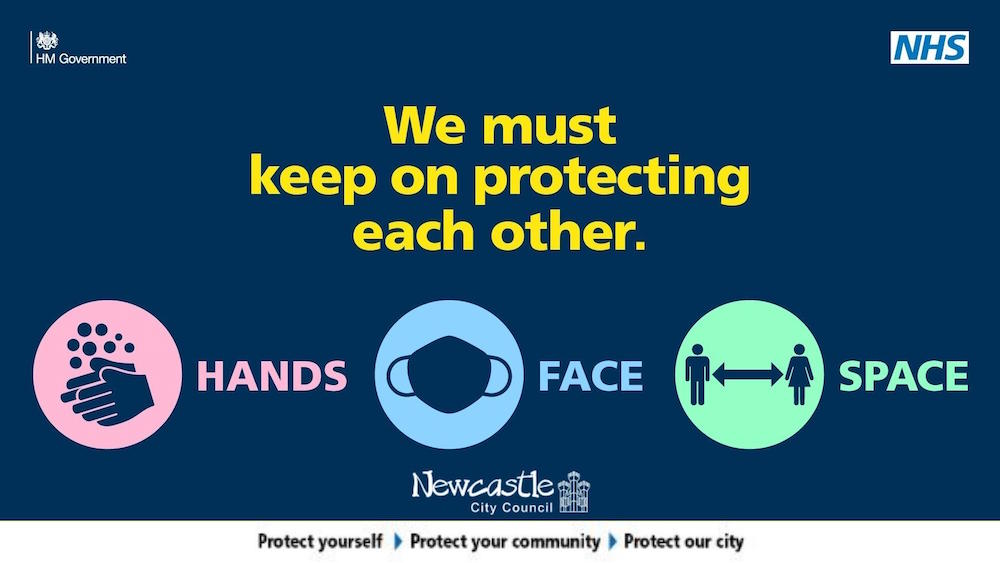 GH 29 September 2020