New Covid Restrictions
New North East Covid-19 restrictions have come into force, as part of an effort to curb a recent rapid rise in local coronavirus infection and avoid another business lockdown.
From today, people across the North East (Newcastle, Northumberland, North Tyneside, South Tyneside, Gateshead, County Durham and Sunderland) are prohibited by law from meeting with anyone from another household at 'private dwellings' (i.e houses, flats and rooms, including gardens, yards, passageways and stairs).
In short, you can't have any visitors at your private residence and you can't meet others at anyone else's residence. However, people will be free to meet with up to five others in a socially-distanced group at hotels, hostels, campsites, caravan parks, members clubs, boarding houses or bed and breakfast accommodation, but probably not at Airbnb-style accommodation or unregistered private lets. Restaurant and bar service must be at tables only.
There are a number of humanitarian exceptions to the general no-meeting-at-others'-homes rule, including provision of care and assistance to a vulnerable or dying person, home births, emergency assistance and to continue existing arrangements for access to, and contact between, parents and children.
There are also limited circumstances where it will be permissible for people to meet in other's homes for work, charity, voluntary, education or training purposes, provided it is 'reasonably necessary'.
People can still come inside your home or garden 'to facilitate a house move'. The wording on this appears to have been left deliberately vague and seems to leave the door open for any visits to people's homes connected with selling or buying a home, as long as the number of people at the property at any one time does not exceed six.
Those who are in 'linked households' (one solo adult household with or without children plus one other household of any description) will be able to meet at each other homes regardless of how many people are involved. Once two households have linked, neither can link with any other household.
The region's night-time hospitality and entertainment industry is also affected.
Restaurants, cafes, pubs, bars (including bars in hotels or members' clubs), social clubs, casinos, bowling alleys, cinemas, theatres, amusement arcades, leisure facilities, funfairs, theme parks, bingo halls, concert halls and even some workplace canteens will be required to cease all business by 10pm and not open before 5am, except for supply of food and drink off the premises.
Takeaways and other outlets supplying food or drink for consumption off premises will be allowed to deliver during these times, but orders cannot be taken in person at the premises.
Unless they can be put to other uses, nightclubs, music and dance venues will stay closed at all times, as will 'sexual entertainment venues' and 'hostess bars'.
BACKGROUND
Here in the North East, the new legislation effectively replaces parts of the 'Rule of Six' law, brought in by the Government this week, relating to meetings at people's homes. People will continue to be able to meet up to five others from different households in an outdoor setting like a park, cafes, restaurants or bars.
Fines for breaching the new rules range from £50 all the way up to £3,200 for repeat offenders. The rules can remain in force until 19 March 2021, but must be reviewed every fortnight to determine if all measures are still necessary. They must next be reviewed by 2 October.
The additional restrictions were announced on Thursday by Government Health Secretary Matt Hancock and follow lobbying by local councils in response to a spike in coronavirus incidence across the region.
INFECTION SPIKE
A week ago the Newcastle infection rate per 100,000 people was 48. Two days ago that figure had risen to 64. Yesterday, according to Matt Hancock, that figure was above 70. "The data says we must act now," he said.
City Council leader Nick Forbes said "We are seeing the rates of infection rising at an alarming rate. The evidence we've found from local testing is that it's spreading in three main areas: in pubs, in people's homes and in grassroots sports.
"This is not the time for inaction. If we are to protect those most susceptible to the virus, we need to be able to act now and that is exactly what we are collectively trying to achieve. We cannot allow it to get out of control. Please work with us and do your bit to keep our great region safe."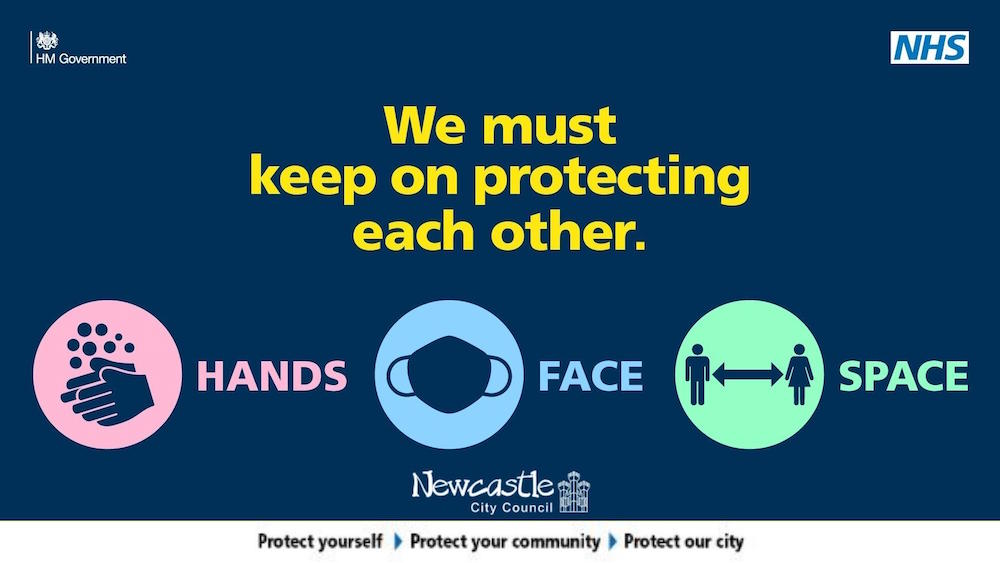 CITY COUNCIL ADVICE
Advice from the Council is to "Follow the guidelines, keep up good hygiene, follow social distancing measures and wear a face covering when appropriate."
Cllr Forbes also urged those with Covid-19 symptoms or those contacted by health protection teams to "book a test and self-isolate" until they get their results.
Additional guidance "to further reduce rates of infection" was issued yesterday.
Do not socialise with other people outside of your own households in all public venues
Only use public transport for essential purposes, such as travelling to school or work
Holidays should be taken within your own household or support bubble
Avoid attending amateur and semi-professional sporting events as spectators
Care homes across the city have been advised to close to non-essential visits, with the exception of residents receiving end-of life care.
FIND OUT MORE
A comprehensive guide to the new law is now available online.
It's not an easy read, but if you want to know first-hand what the new law is, just follow the link Health Protection (Coronavirus, Restrictions) (North East of England) Regulations 2020.
Changes to advice about when someone should get tested change frequently. This link has the latest Government advice.
GH 18 September 2020. Amended 19 September to include extra detail about provision for 'facilitation' of house moves and addition of links to new Government guidance about North East law and Covid-19 testing