Greening Wingrove CIC Members Update 25.10.16
The Greening Wingrove Community Interest Company (CIC) is a community co-operative that aims to improve the appearance and social ambience of its area in the West End of Newcastle upon Tyne with the intention of creating a sustainable, inner-city garden suburb, reflecting the diversity of its population as Newcastle's 'Rainbow Ward'.
Not already a member of the Greening Wingrove CIC? Find out more HERE
A Future for Nuns Moor Park Public Meeting – Tues 1st November
Would you like to help make Nuns Moor Park a better place and to shape its future? Greening Wingrove CIC is holding another public meeting to take things forward. There'll be an update from the City Council on the future of Newcastle's parks, and we'll arrange groups to set up a new Friends of the Park to help with maintenance, as well as to plan longer term improvements. Tuesday 1 November, Nunsmoor Centre, Studley Terrace, Arthur's Hill, 6.30-8.00 pm. ALL WELCOME.
Next Arthur's Hill Litter Pick – Saturday 19th Nov, 11am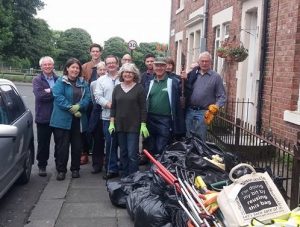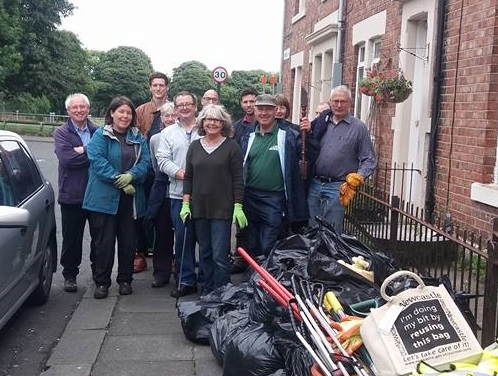 Our next monthly litter pick in Arthur's Hill will take place on Saturday 19 November 2016.  We'll be in the short streets such as Callerton Place and Chelsea Grove) between Brighton Grove and Croydon Road, and meeting outside the wine shop (opposite Brighton Food Stores) on Crossley Terrace at 11.00 am.
For more details of this and a number of other litter picks, contact Katrina Jordison, Community Organiser, via: katrina.jordison@corganisers.org.uk
Katrina is also planning another community meeting about the Greening Wingrove anti-litter campaign, and will be starting our independent monitoring of the City Council's new communal bins that are being installed in terraced streets' back lanes.  If you'd like to help Katrina, do get in touch.
Greening Wingrove Community Garden – formerly the Bike Garden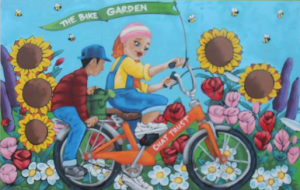 We're now getting a steady flow of bookings to use the Pavilion and Community Garden in Nuns Moor Park for meetings, festivals, family and children's parties, a singing group and a children's club.
And we're seeking to pin down a more permanent name for the Community Garden and Pavilion.  The Bike Garden reflected that phase when Sustrans helped to improve the Pavilion, but is Bike Garden still the right name?
If you have any ideas, or would like to hire the Pavilion, do let us know via: bookings@greeningwingrove.org.uk
Greening Wingrove CIC Annual General Meeting and Board Elections, Saturday 10th December 2016
We're starting to plan our next AGM which is set for Saturday 10 December 2016.  The time and venue will be confirmed shortly but it's likely to be around late morning.
And if anyone is interested in becoming a Director of the CIC – contributing to our role in forward planning of the organisation, or even bringing a specific skill to the Board – then please do get in touch for a chat via: nigeltodd@phonecoop.coop
Fruit on the Tyne Conference November 2016
Fruit on the Tyne is a conference for community gardens, farms and orchards in the North East on Saturday 5th November, 9:30am – 3:30pm at Nunsmoor Centre, Fenham. NE4 5AH. Click HERE for more info.
Free event with lunch and refreshments provided thanks to sponsorship from the WEA Greening Wingrove Project!
This is the second WEA Green Branch conference on this theme recognising the growing interest and benefits of community growing projects in the North East. The conference aims to support these projects and develop networks. The conference has been named Fruit on the Tyne but will invite groups not only from Tyneside and Northumberland but also Gateshead and County Durham.
The day will provide:
Presentations from local groups to share lessons, challenges and experiences from their projects
Lunch and Marketplace for stalls
Participatory workshops on topics to spark ideas and inspire
To register for the event and see the programme for the day please follow this link:
www.eventbrite.co.uk/e/fruit-on-the-tyne-conference-tickets-27626232806
The organisers look forward to sharing an interesting and inspiring day!