Green Centre – The W.E.A. Greening Wingrove Project By Berta Matillo
We could say that Arthur's Hill is living a moment of community explosion (In the good sense, that is). Different organisations and projects have collided and amazing things are actually happening in the area. For once, it feels like there is a strong will for change towards a better and more sustainable way of living.
The W.E.A. Greening Wingrove Project has been working hard on it and aside their multiple actions and initiatives they've also had the chance to fund improvements in community buildings through the 'Green Centre' programme.
The Robert Stewart Memorial Church, The Chat Trust and The Time Exchange have benefitted from this so far. The idea of the 'Green Centre' is to help improve sites using 'green' techniques and also using them as educational tools.
At The Robert Stewart Memorial Church activities couldn't carry on because of how cold it was at their hall. The church couldn't assume the high energy bills and although they managed to raise enough money to make the outside of the hall weatherproof activities were getting cancelled.
The W.E.A. Greening Wingrove Project carried on an energy audit which concluded that the hall roof and walls needed insulation with panels which would increase heating up time and reduce its loss. They also decided to change windows and install LED lighting. Work took place in June and was completed in less than two weeks and things are already looking promising although the real test will arrive with the winter months.
CHAT Trust stands for Churches Acting Together and has been in the area for 23 years. They're currently doing an amazing job with the young population of Arthur's Hill. They hold drop in sessions providing internet and musical instruments and they also have a studio to record for free! They collaborate in many projects but have headed the most successful 'Reclaim the lanes' which according to Caroline Emmerson, from the CHAT Trust, has exceeded its expectations.
They needed a new heating system and the W.E.A. Greening Wingrove Project provided a boiler for them. This will have an impact on their energy bills and will be used as a learning tool for the young people so they can also take their knowledge home. Apart from showing them how the right system can lower bills an energy course is also to be started.
At the Time Exchange things have gotten really colourful, clever and efficient. After months of planning the time arrived to install the new irrigation system with all its clever growing containers. The water is collected from the rain, filtered and irrigates a number of hanging baskets, wool pockets and earth boxes full of flowers and some veg too. The pumping system works with a solar panel that activates it. Helen, the gardener at the Time Exchange, says the flowers have already attracted many bees and butterflies. The different pots show a range of techniques to make the use of water more efficient and why not say it, they look lovely as well! I'm sure if you've passed it by you haven't missed it!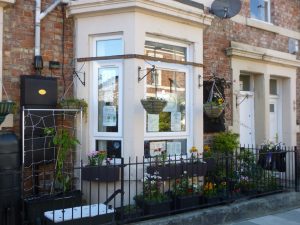 So as you see things are coming together nicely and resources are being used to improve buildings that have an impact in the community too. So we all work together in making this area a little bit greener every day.
So if you've walked through the streets of Arthur's Hill and you've seen a group of neighbours enjoying a sunny Saturday morning cleaning the streets or you've stumbled into a bunch of people surrounded by plants and learning how to grow food, believe me, you weren't hallucinating.
This and more is going on and we could simply say it's GREAT.
Berta is a local resident and an aspiring journalist. She has written a number of pieces in the past as a Community Reporter for the W.E.A. Greening Wingrove Project